Reduces the sludge transports from your treatment plant
A Malmberg vertical decanting tube improves the thickening of the sludge by draining the liquid phase under the sludge cover. This means that there will be fewer transports where sludge is to be removed from the plant. Simplifies everyday life and good for the environment!
The decanting unit is available in two different designs depending on whether liquid is to be discharged naturally or pumped. The decanting pipe for pumping is smartly designed with a submerged drainage pump in a collection pipe which is equipped with an integrated rocker for on/off function. In this way you get a continuous decanting of your sludge which works no matter what level you have in the basin/tank.
Increased TS content after decanting means less sludge volume.
Less amount of suspended material in the reject water.
Made of stainless steel
The decantation tubes are adapted to existing conditions.
Easy to adapt to local conditions.
Installation is quick and easy.
Equipment for cleaning the decant tube is included in the purchase.
The reduction of the amount of water in the sludge means sludge transport from the work can reduce significantly.
The reduction of the amount of water in the sludge means sludge transports from the work can reduce significantly.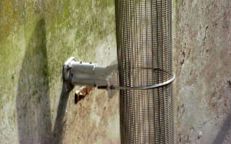 Economy and environment
A lot of money is spent today on removing sludge from sewage treatment plants. Sludge, which largely consists of water. This amount of water can be reduced with the help of Malmberg Decanting equipment. This is good for your economy but also for the environment as transport with fossil-fuel trucks can decrease. Energy and chemical consumption for dewatering/ hickening can also be kept at a more reasonable level.
Design
Of course, we make sure that the decanting equipment that is to be installed in your particular basin/tank is adapted to the local conditions. For example, the height of the sludge tank may vary.
For more information or questions, please contact me