A plastic chain sludge scraper for tough environments
Malmberg Plastic Chain Scraper is designed for use even in extreme environments. The chain is extra strong as well as chemical-resistant which guarantee extra long service life and minimum wear. Each component of the Malmberg Plastic Chain Scraper is very carefully designed.
Malmberg plastic chain scraper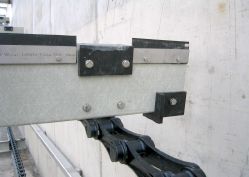 Precision moulding to extremely close tolerances guarantees perfect form and uniform strength. The scraper blades shaping, made of nylon reinforced with glass fiber, gives it extra long service life. The scraper can be adapted to all usual types of rectangular sedimentation basins either with surface or bottom scraping or a combination of the two. Because it is resistant to corrosive environments, the scraper is especially suited for aggressive waste water and for operations using chemical dosages.
Low energy consumption thanks to its light weight
High durability
Patented design
Resistant to corrosion
Adaptive to all usual types of rectangular sedimentation basins
Easy to install and maintain
For more information or questions, please contact me