Increase your filter capacity with a new underdrain system
The Malmberg Triton® System is designed to solve typical problems that occur in filtration plants and offers several advantages to conventional filter-bottom systems. Triton underdrain system utilizes Johnson's world-renowned Vee Wire® screen technology. With its unique system, it can easily be adapted to almost any existing filter bottom which shortens renovation time and reduces investment costs. Triton underdrain system offers a maximum surface area to optimize filtration efficiency.
Advantages of a Triton
Filter design simpler
Vee Wire slots to suit different types of media and sizes
Ideal for renovation
Reduced plugging problems
Covers the entire filter area
Improves the backwash effluent efficiency
Low initial headloss
Several layers of filter media may be used without risk
Works perfectly with activated carbon as filter media
Reduced number of backwash cycles resulting in higher production (m³/m²)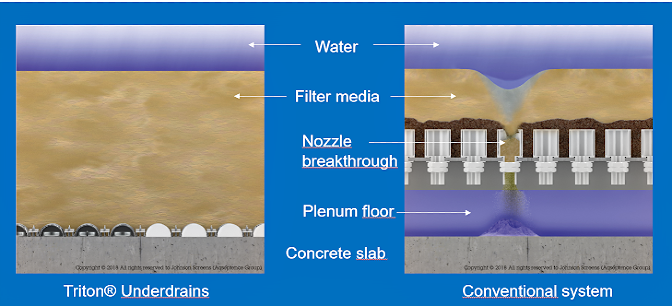 What are your requirements?
The Malmberg Triton® filter bottom system is modular and scaleable. It can be built new on-site or prefabricated. Many old filter systems with conventional nozzle filter bottoms can easily be replaced. Triton® does not need a double layer of filter floor which gives the advantage that the filter bed's active area is increased.
For more information or questions, please contact me