Malmberg Maintenance Concept means maximum availability and more
Make sure your biogas upgrading has maximum availability. A production stop can be critical and every hour of downtime means high losses of revenue. With a Malmberg Maintenance Concept agreement, you and your plant are always in good hands and treated with high priority.
This is how it works
Sign up for Malmberg Maintenance Concept (MMC)
Scheduled maintenance work
24/7 support HelpDesk
Single point contact
Direct support for mechanical or process related issues
On-line monitoring trouble shooting
On-line surveillance
Critical spare parts in stock
Start-up
Our team of mechanical-, electrical- and automation- technicians take care of the start- of our plants. The very same technicians maintain and service all our plants meaning that they all have the background of a plant and it´s significant features.
Maintenance
All plants with a Malmberg Maintenance Concept agreement (MMC) have their regular maintenance schedule performed by our own team of Malmberg Service Technicians.
HelpDesk
Our plants have a modern and user-friendly automation system allowing us to follow the process closely both on-site and remote. With a Malmberg Maintenance Concept agreement (MMC) the plant operator has an exclusive Helpdesk code and can call 24/7 where he/she will be supported remotely by a service technician.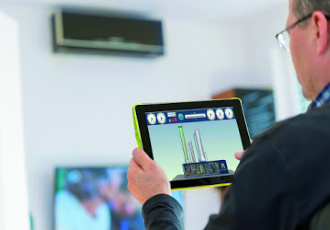 Monitoring
Through our control system Malmberg feniX™, installed in every plant, we can remotely monitor a solution to a problem or just improve biomethane production.